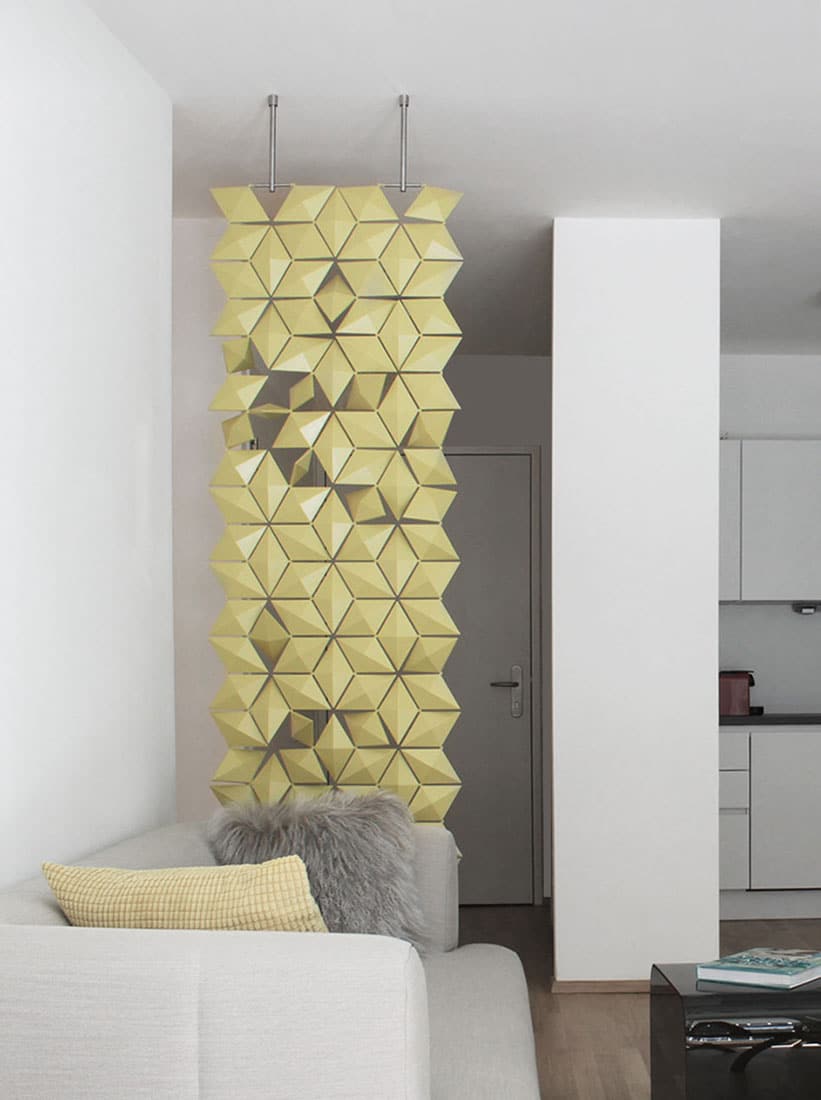 It's the small things that matter
If you have limited space, then we have the perfect room divider for you! Facet is one of the best small room divider screens on the market. It is only an inch thick, so it does not take up a lot of room, it is partly transparent, which allows you to keep the feeling of depth in your small room and it is an absolute showstopper!
With Facet you won't lose precious floor space to a big stand, seeing as you simply attach it to the ceiling. The small room divider screen itself also does not take up a lot of space. You can even hang it very close to a window or a wall. Its transparency allows light to flow through the screen, which is always a bonus for a small space. And its stunning pattern and design will dazzle any crowd.
Keep sense of space with a small room divider screen
This small room divider screen offers a beautiful and creative solution for small spaces. The intricate pattern of the screen is made up of individual parts. These parts can be rotated. By rotating some of them, you allow more light to shine through and you allow for a bigger portion to be seen from either side of the screen. This is ideal for a small room where you want to keep the sense of space and depth.
We can make your small room divider screen in any possible size. Just measure the area you want to cover and give us the dimensions! We also offer a range of unique colors so you can make sure your room divider brings out the best in your interior. Make your space more colorful or choose bright white for even more light to enter and bounce around.
Installation is easy. Follow the step-by-step manual included with your purchase and you will have your small room divider screen up in no time! If you have any questions or special requests feel free to contact us! We enjoy hearing from you!
Our room divider screen Facet comes with smart ceiling attachments. These attachments can either be attached directly to the ceiling for a stationary room divider or it can be attached to our dedicated rail system.
In the picture above, you can see our small room divider screens hanging in the entryway of an apartment in Vienna, Austria. When someone is at the doorstep it offers just that extra bit of privacy that you need. It looks beautiful as light glimmers through.
Project: Small Room Divider Screen
Location: Vienna, Austria
Client: Residential
Our most popular small room divider screens