Facet is the perfect option if you want to partition a large space
It is a cool, sleek room divider screen that can be used to create separate spaces in any setting. It gives your space an astonishing look without losing the open and airy feeling that it had before. Our room partition divider also gives you the possibility to play with light and shadow by rotating its facet elements.
When looking for a room partition divider, you should consider the following things:
What can you do to keep the room as light as possible?
What screen color would best suit your space?
How big should the room partition divider be?
Do you want to install it yourself?
Do you want a system that can be altered as the season or your mood changes?
With Facet the source of natural light will still shine through your entire space, seeing as the screen is slightly transparent and you can make it even more transparent if needed. We also offer Facet in a range of different colors, so you can choose the color that works best with your décor.
Because Facet is a fully modular system, you can order it in any size and it is even possible to make it larger or smaller in the future. A small screen in a big room can make the space look even bigger, while a big screen in a small space can make the space look smaller. Remember to take that into account before you order.
It is quite easy to attach Facet to your ceiling, it is not very heavy and the smart design means that you only need one screw per attachment part. We include a helpful user guide with the room partition divider to make it even easier. The ceiling attachments are also available in different materials and lengths so that your room divider can be personalized to fit your style.
The unique feature is that you can play around with the transparency of your room partition divider screen. The diamond-shaped facts that make up the pattern of the screen, can be turned around 360 degrees. This allows you to decide for yourself how much you want to be seen through the screen. You can, for instance, decide that you want more light to come through in the winter months and less in the summer.
This particular design screen is installed in a beautiful office in Boston, USA. It divides the different working, meeting and relax areas. The ceiling attachments of this divider are custom made. They are a bit longer than usual and carried out in aluminum with a white finish. If you are interested in the room divider you see here, hop on over to our web shop for more information and order possibilities. We ship worldwide and are reachable via email or phone.
Project: Room Partition Divider
Location: Boston, USA
Client: 3Play Media
Architect: Union Office
Photography: T3, Morgan Mosher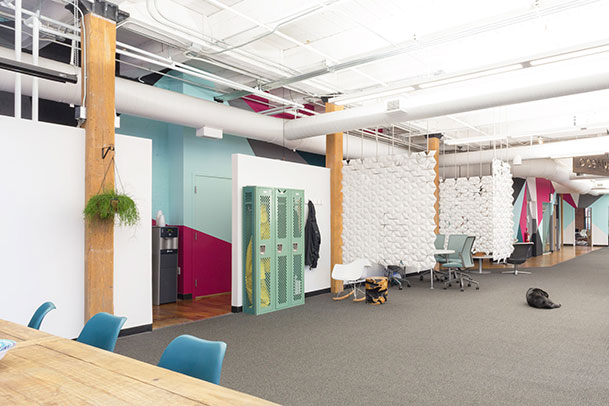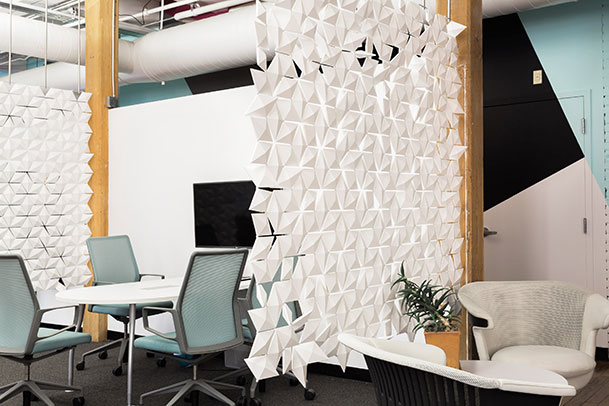 Our most popular partitions