A thin room divider is an excellent way to separate a section off within a bigger space
This can be done in a simple and stylish way that won't disrupt the architecture of the room. They're especially useful for large open spaces such as offices as they allow for the perfect combination of collaboration and relative privacy.
Benefits of a thin room divider
If you're looking for the ultimate combination of functionality and simple aesthetics, look no further than the thin room divider screen Facet. Developed via an innovative technology, this thin room divider screen will make your home or office space even more beautiful. Each facet can be rotated separately producing a myriad of various shapes and textures, which enables you to play around with the screen's transparency and suit it to your unique needs and requirements.
The simple yet effective design of the Facet thin room divider allows for subtle separation which will give you the privacy you're looking for without interfering with the architecture of the space. One of the greatest advantages of this room divider is that it's an incredibly simple, yet effective and flexible way to organize any space. The transparent design is perfect if you're looking to create a semi-private working area or a home office but don't want to completely separate a room from the rest of the space. When it comes to breaking up a room, using a thin room divider saves you the time and costs associated with construction work and solves the problem in a simple and effective way.
Custom-tailored to your unique needs
A modular system, Facet can be purchased in any size and will work equally well as a small room divider and a large screen wall. The thin divider can be placed in any type of space in order to facilitate greater privacy or concentration, or even to just add a splash of color or work as an accent piece in an open floor plan. To get the right size, all you need to do is enter your space dimensions when ordering your Facet divider wall, and select a shade from our wide array of colors available. And if bright colors aren't exactly your thing, worry not, because even the plain white Facet will brighten up your space and give it a novel and glowing look!
Project: Thin Room Divider
Location: Brussels, Belgium
Client: M&Team
Architect: JJ Maes
Photography: Luc van Huffel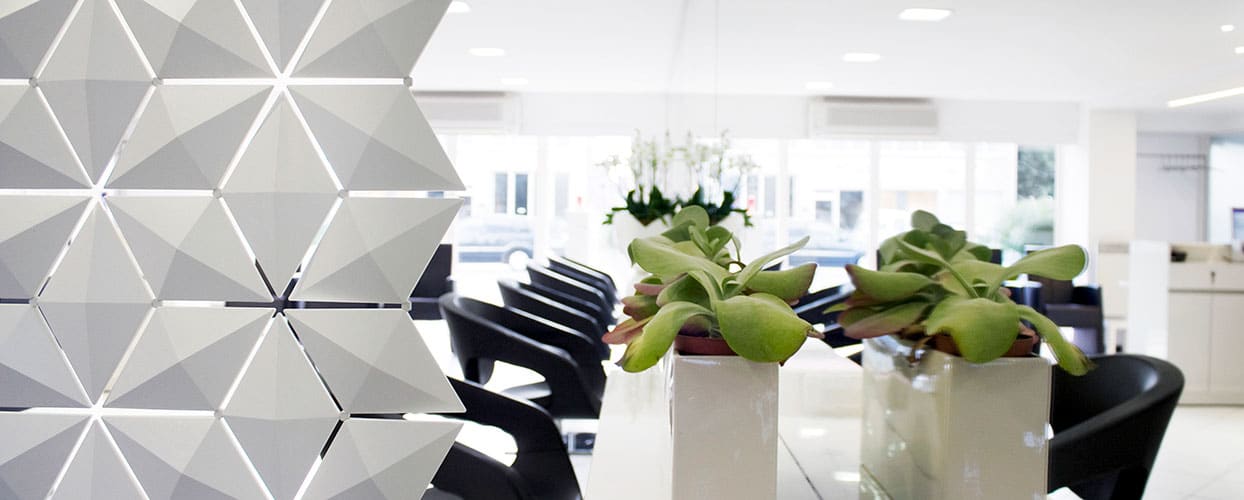 Our most popular Facet room dividers