Create a space that is modern, functional and inspiring to your employees
We have the exact office room divider that you have been looking for. Facet, our designer room divider, is an eye-catching piece that will make your office space a joy for everyone to work in.
Not only is our office room divider a stunning thing to look at, it is also very practical
It can be hung from any type of ceiling meaning you can place it anywhere in your office space. It can also be made in any size that you need and for high or slanted ceiling we offer different options to attach Facet to your office ceiling. Choose a matching color from our selection of colors or, if you have a specific RAL color in mind, we can create if for you. Facet consists of several diamond-shaped parts that are connected with a smart design. The smart design enables you to turn the facets around. This gives you the possibility to create more or less privacy depending on your needs.
A unique, versatile office room divider
The beautiful and bright office room divider featured in this piece is in the office of Global Technology Company in London, the UK. It complements the crisp and light feeling of the office interior while providing privacy when needed. The versatility of Facet is clearly portrayed in these pictures. In some pictures, the diamond-shaped facets are neatly closed to show off the perfect geometric pattern while providing maximum privacy. In other pictures, the facets are turned to create a more see-through room divider that has a more edgy look.
Project: Office Room Divider
Location: London, United Kingdom
Client: Global Technology Company
Architect: Catherine Bason, workpl@ce UK
Photography: Tim Lewis-Bale Photography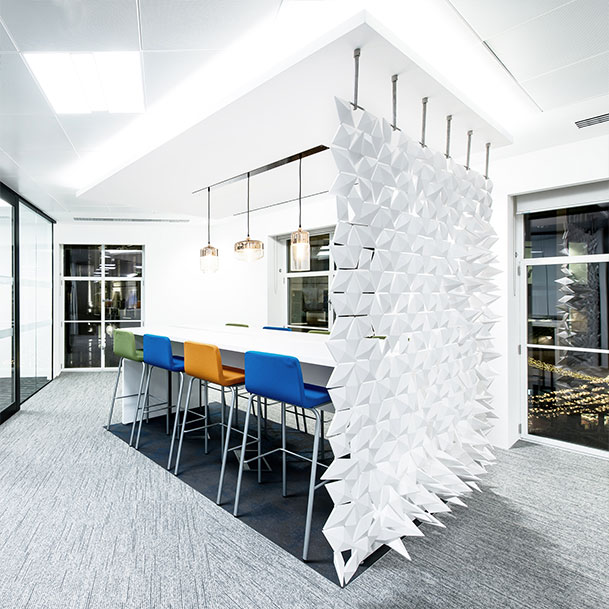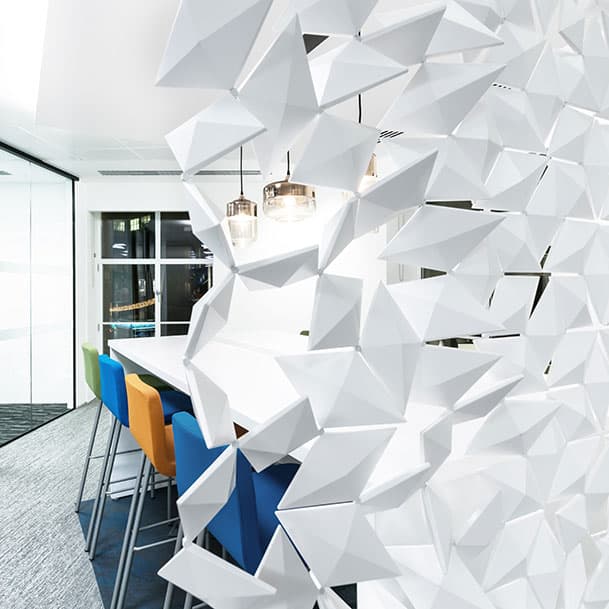 Our most popular office room dividers