Size does matter
Well, when it comes to this large room divider screen, we wholeheartedly agree. When our room divider Facet is used as a small room divider, it looks beautiful, but there is just something about it when it is used as an extra large room divider screen. It simply takes your breath away.
Large room divider screen with a mesmerizing pattern
Do you have a large area that needs to be filled in in an interesting manner? Do you want to create two rooms from one big room, but you don't want to build a wall? Do you have a large glass cubicle that needs some privacy from the people passing by? Then Facet is the answer! The room divider Facet is made up of separate pieces shaped like a diamond. These pieces form a breathtakingly beautiful pattern together. When it is used to cover a big surface, it becomes mesmerizing.
Let us customize it for you
The feature that makes Facet stand out from the rest is that it is customizable in a variety of ways. Firstly, we can make it in any desired size – the sky really is the limit. Secondly, we have a range of colors on offer. Thirdly, the ceiling attachments are also available in custom lengths. This gives you the possibility to make sure that the large room divider screen you order, fits perfectly in your space. Not only do we send you a customized designer piece. After you have installed your large room divider screen, you can adjust it yourself to suit your exact needs. The individual pieces that make up the screen, can be twisted around. This way you can change the pattern slightly to get a unique effect. You can also adjust the amount that can be seen through the screen and let through more or less light.
A truly unique large room divider screen idea
In the pictures featured here, you can see the room divider Facet in an office in Amsterdam, The Netherlands. Seeing this geometric pattern over a large surface, is very pleasing to the eye. If you look at the picture of the front desk, you will see that there is a gap in the screen perfectly framing the logo of the company.
Project: Large room divder screen
Client: Redevco
Location: Amsterdam, The Netherlands
Architect: Monica Straathof, Ideal Projects
Photography: Valerie Clarisse, Beeldpunt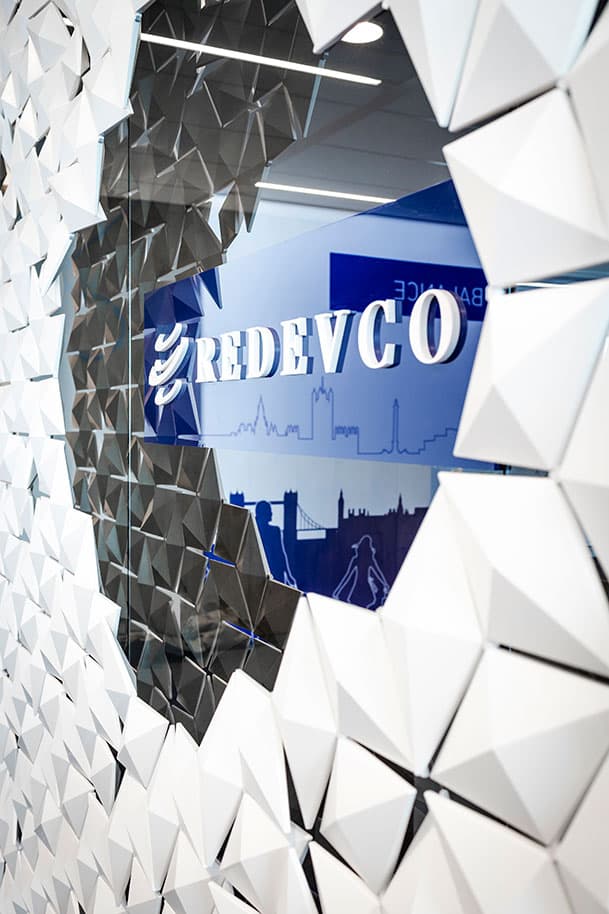 Our most popular large room divider screens