It's easy to divide a large room with Facet
Very often a large room feels uninviting. It loses its coziness and warmth. If you are struggling with the question of how to divide a large room, then you have come to the right place! With our room divider Facet you will be able to create comfortable, intimate spaces.
Divide with elegance
If you have a big open space restaurant or office, you want to create the perfect ambience for your guests. It is important to give a sense of intimacy and privacy. Our room divider Facet is just beautiful and would add elegance to the décor in your space while sectioning it off into small and cozy areas.
How to divide a large room into functional areas
The same goes for if you have a big lounge and bar area at your hotel. Use Facet to divide your big space into different functional areas. Create a fun atmosphere with this stunning piece of designer furniture and let your guests feel at home in the partitioned areas.
Create separate sections in your showroom
In a big, industrial show room you can create separate sections to showcase different products. Facet is slightly transparent. This means even though you use it to create your separate sections, you are still offering your clients a glimpse of what they can view in the next section.
How to eliminate distractions in the meeting room
An open plan office is a nice way to promote interdepartmental collaboration and it communicates a no-nonsense, transparent approach to doing business. The need still exists for certain areas where one can have meetings without being distracted by what is happening in the rest of the office. Facet enables you to create certain areas with a bit more privacy and seclusion.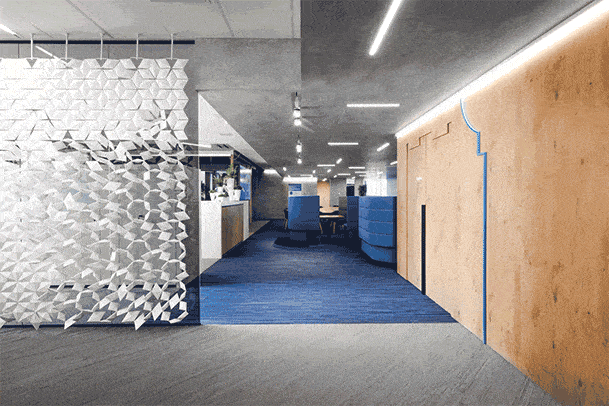 Redevco Amsterdam
The room featured in these pictures, is in the beautiful designed office of Redevco in Amsterdam, The Netherlands. It is designed by Monica Straathof of Ideal projects. Great job Monica, it was a pleasure to work with you! If you want more information about our dividers, hop on over to our shop page for more information or contact us if you have any further questions. We'll be happy to help you out!
Project: How to divide a large room
Location: Amsterdam, The Netherlands
Client: Redevco
Architect: Monica Straathof, Ideal Projects
Photography: Valerie Clarisse, Beeldpunt
Our most popular room dividers for large spaces