Customize your custom made room divider screens
Room Divider Facet is our beautiful room divider screen solution with an elegant pattern. We know that no two people have entirely the same taste when it comes to interior decoration, so we design our dividers in such a way that they are the perfect custom made room divider screens.
Play with transparency
Another great aspect of these custom made room divider screens is that you can play with the transparency of the screen. Each facet can rotate. This allows you to make parts of the screen more transparent than the rest. If you decided to use different colors in one screen, turning around some of the facets will result in a stunning colorful pattern.
A modular system perfect for customization
Facet has a modular system and is made to order. This means you can measure the exact dimensions you want it in and we will make it according to that. You can also choose the color. We have a range of lovely colors, but if the color you want is not there, we can mix a color specifically for you! Contact us to find out about the possibilities and the additional costs involved for this for your project.
We want your custom made room divider screens to look exactly as you imagined it and don't mind to go the extra mile. You can even combine several colors in one screen. Because it consists of separate facets, there are so many possibilities to make the screen truly unique and match your ideas.
You can also choose the type of the ceiling attachments. Most of our dividers are carried out with stainless steel ceiling attachments with a fixed length, but the divider you see here on these pictures makes use of our "adjustable-length ceiling attachments". This is a really thin stainless steel cable of 1mm / 0.04″ and you can customize the length while installing. This feature doesn't add additional costs or lead time.
In this showcase, interior designer Linda Lagrand used Facet in the Workoutclub in Rotterdam, The Netherlands. It is the perfect separation between the leisure area and the workout area. Thank you Linda for the beautiful interior, Facet is in good company! Also thanks to Peter for the beautiful project pictures.
Project: Custom made room divider screens
Location: Rotterdam, The Netherlands
Client: Workoutclub
Architect: Linda Lagrand Interior Design
Photography: Peter Baas HDR Photography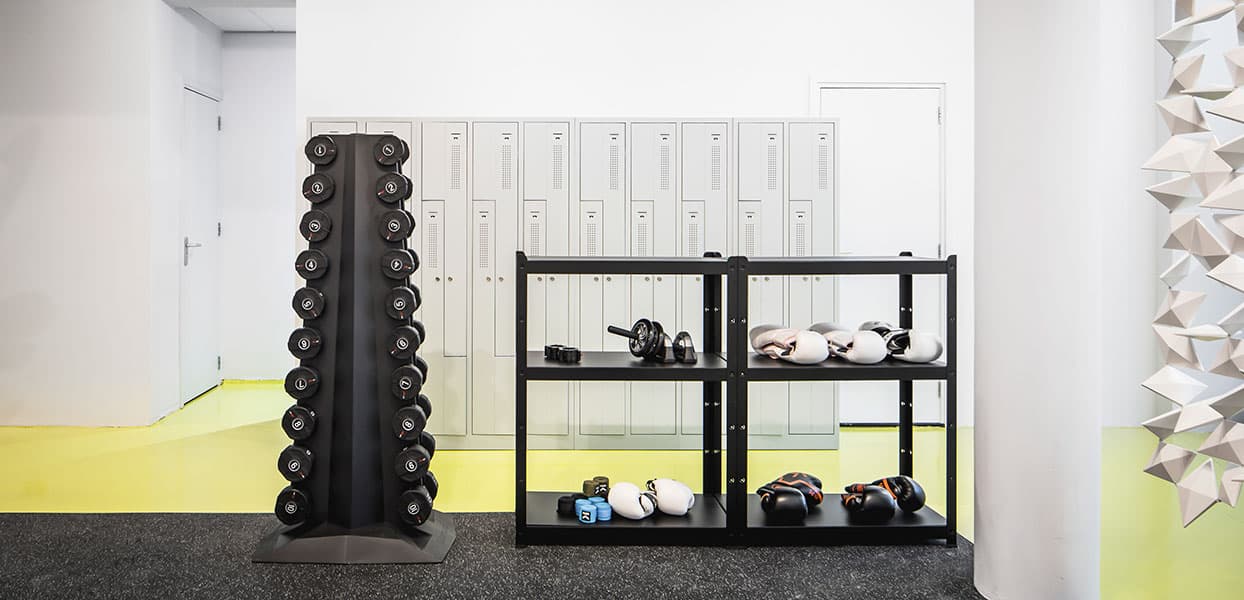 Our most popular customized room divider screens