Description
THE ULTIMATE HANGING ROOM DIVIDER
Durable and timeless, the Facet hanging room divider is a true modern classic that makes organization simple. Intimate corner or big space? Use our Facet configurator to design the room divider that fits your taste and space perfectly.
Customize without compromise
A perfect balance between elegant design and intelligent function: Facet allows you to adapt the way it looks in your space. You have absolute freedom to arrange amazing patterns, pivot the diamonds to catch the light or flip them to create more transparency! Our Facet hanging room divider is as beautiful as it is practical.
Unique adjustable design
Facet's adjustable design allows you to adapt the way it looks in your space. The individual elements that make up the screen can be rotated. Even a slight adjustment to the angle of the diamonds will create unique patterns and effects.
Fits any ceiling
We offer a solution for every type of ceiling. No matter if your ceiling is slanted, multi-level, floating, made of plasterboard or just very high.
View all options
The hanging room divider that makes the difference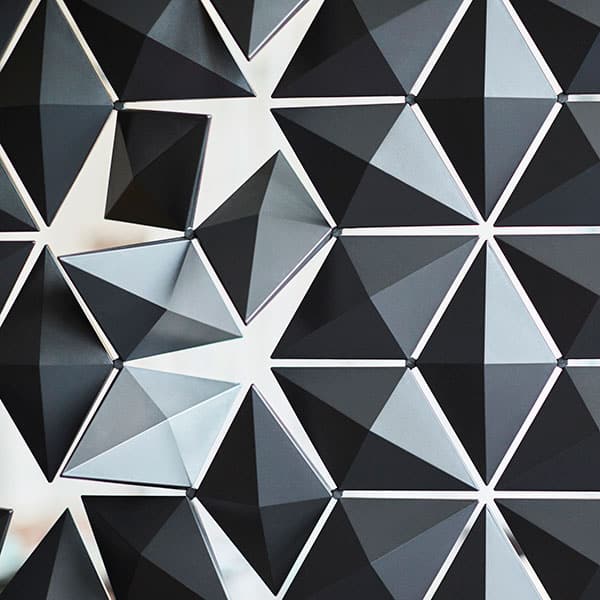 Premium materials
The Facet suspended room divider is made of PCABS, aluminum and stainless steel; high-quality, strong and durable injection molded materials that ensure everything we create will really last. The top-class materials used in the production of Facet result in a product that is not just long-wearing, but also fully recyclable, fire retardant, UV resistant, antistatic and easy to clean.
Easy click-in assembly
Thanks to its light weight, the Facet suspended room divider fits every ceiling (yes, also plasterboard). All our room dividers come with a clear 5-step installation guide and the smart modular click-together design makes assembly and installation very simple. Your room divider is also easy to disassemble so you can take it with you when you move.
Installation videos
Timeless design with nature at heart
The Facet hanging room divider is strong, durable and made to last. The Facet family is brought to life through sustainable materials and planet-friendly production methods.
Learn more
Additional product information
Frequently asked questions
How our customers rate the Facet hanging room divider